This month we're celebrating not only our connection to the ocean and the lifestyle we love (thanks to World Oceans Day and International Surfing Day falling in June), but we're excited to share stories of amazing women who draw their inspiration and experiences from the sea.
Meet Roxy and Bree from the Rubias Collective. They're two incredibly talented videographers based in Oahu, Hawaii and they create mesmerizing moments that poetically capture the many moods of the ocean from above and below the surface.
We worked with the dynamic duo last year on the #WildAloha shoot with Monyca, Mainei and the Herewith Mag team and were stoked on the hypnotizing clip they created.
Scroll down to get to know Roxy and Bree and some of their beautiful work.
What's your earliest memory of the ocean?
Roxy - My family actually took a trip to Oahu when I was a kid and it's gotta be one of the first times I ever went in the ocean that I can recall. All I remember was going to sandy beach on a day that had some solid swell for a kid, getting worked, and not touching the ocean again for years - haha.
Bree - My earliest memory of the ocean was when I was around 3 or 4. I was holding a baby pink jellyfish around in my hand at Three Arch Bay, Laguna Beach, while my family was enjoying a Sunday afternoon. I remember looking at the colors around me and the textures of the rocks. Three Arch will always be the first beach/ocean I remember because our family would go every day. That ocean cove is stunning hues of greens, blues and perfect whitewash.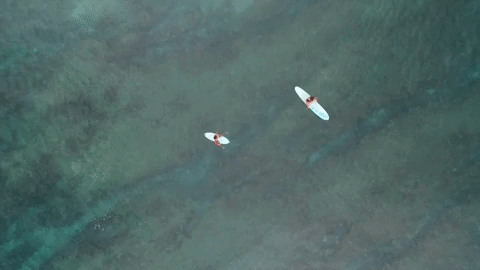 Living in Hawaii is a dream! Where is your local break?
Roxy - I love Chuns, Sunset, Velzy Land, and the sand bar. I can't pick just one! But if i'm gonna get technical, it's Velzy, as I literally live right on that break.
Bree - My local break would be Turtle Bay at the point because that's where I met my husband for the first time and we paddle out every night after a long day of work. It's where we go no matter what kind of day we've had. But my all time favorite surf break would have to be Chuns for the power of the wave & I love rights. (regular footer)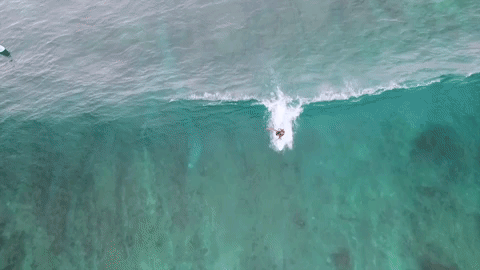 How did the Rubias Collective come about?
One night Roxy & I were sitting in her living room trying to fill a void in Hawaii. We both have a passion for capturing beautiful videos especially of the amazing women out here and we brought that to life with Rubias Collective. A collective of two friends coming together to bring a softer more feminine side to the surf/swim industry.
Where is your favourite place to surf?
Roxy - There's a little spot in northern baja called Shipwrecks, it's fairly popular but almost always empty, with a perfect left point break that wraps for hundreds of yards around an old shipwrecked cargo ship. Nothing beats even a mediocre session at Shipwrecks.
Bree - Waikiki or chuns :)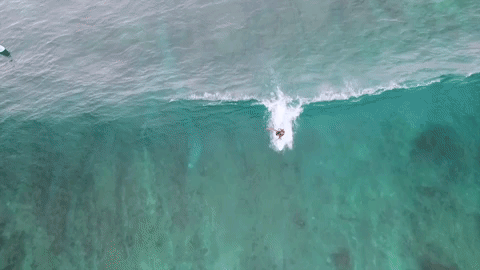 You spend a lot of time shooting at beaches around the world - is there a dream destination you're yet to visit?
Roxy - Dying to shoot at Chicama in Peru, and get a few sessions in while I'm there of course!
Bree - I think for me I would love to go to Philippines and use those stunning rock formations that stick out of the ocean - and play with the monkeys.
You guys collaborate together on projects, do you also surf together?
Yes, when work isn't too busy we always try to get out in the water together!
Who is your favourite female surfer?
Roxy - Kelia Moniz, the QUEEN. Can we talk about her session at Teahupoo...
Bree - My favorite surfer would have to be Stephanie Gilmore because of her style and class while she surfs. She holds herself so well and has a name in the industry that is known for being powerful & inspiring.
What do you love about the ocean?
Roxy - One of my absolute favorite things about the ocean is that it reveals your most natural self. You can't wear makeup, or have perfect hair, and if you're fearless and strong it becomes so apparent in the lineup. You can't hide behind anything out there and it allows the people I find to be the most beautiful, to truly shine.
Bree - The ocean ebbs & flows. It has a give & take effect. Being on the island I can easily feel the push and pull but the draw the ocean has on me will never let me go. I try to capture the ocean in all her beauty and have her inspire others like she has inspired me. I would say growing up in San Clemente, the ocean takes on different meaning depending where you are in the world. Hawaii and its reefs, sand & colors.
Don't forget to follow us on instagram for the next instalment of It Started With the Sea and meet the next amazing female we're excited to feature.
View the series here > Meet Artist Reisha Perlmutter // Meet Marine Biologist Olivia Rose // Meet The Scandinavian Surfer Girls // Meet Photographer Carly Brown