This month we're celebrating not only our connection to the ocean and the lifestyle we love (thanks to World Oceans Day and International Surfing Day falling in June), but we're excited to share stories of amazing women who draw their inspiration and experiences from the sea.
We first met Norwegian surfers Ingrid and Ragnhild last October when we were in the Lofoten islands for a winter photoshoot. These girls love surfing so much they happily paddle out it in water to be conservatively described as a little cold. Imagine putting on a wetsuit in the carpark when it's snowing?!
The night we met Ingrid, Ragnhild they were heading out for a full moon surf. But before they jumped in the girls were eager to meet Steph, Monyca, Kelia and Mainei. We were in awe of their stoke, braving surfing in the arctic circle to score some waves under starry skies.
No wonder we found their adventurous spirit so inspiring.
Scroll down to meet Ingrid and Ragnhild and catch some of their epic stoke.
What's your earliest memory of the ocean?
Ingrid - When I was in Spain at the age of 5, I went swimming with my favorite blue and white stripy undies. Then a big wave came and pushed me over, and I got spinned around for a while and came up scared and without any undies!! I sat down crying for hours until my mom told me that at least the sharks could enjoy it!
Ragnhild - My earliest memory of the ocean has to be when my grandpa and I were out fishing in his tiny fishing boat. I think I was 6 years old when he took me out on the sea to show me his work.
What's the best time of year to surf in Norway?
Ingrid - In the winter the waves are powerful and they can get pretty big, and it's freakin cold to change to your wetty outside the car in -10 degrees. Then you have the northern lights also, which makes the experience just insane. Compared to the summer when they're smaller but super fun! We camped at Unstad last summer and went for a surf 2.00AM and the sun was still up, pretty amazing.
But in my opinion I'd say winter is the best, you can surf in shorts in so many places in the world! But surfing when it's snowing and you're sitting there under the northern lights, life is prettttyyy good.
Ragnhild - If you're thinking about the size of the waves, then winter for sure. To change into your wetsuit when it's snowing and the wind is biting your toes, has its own charm. In the winter, if you're lucky, and the conditions are right, you can have the opportunity to surf under the full moon and the northern lights. In the summer though, a surf session in the midnight sun is strongly recommended.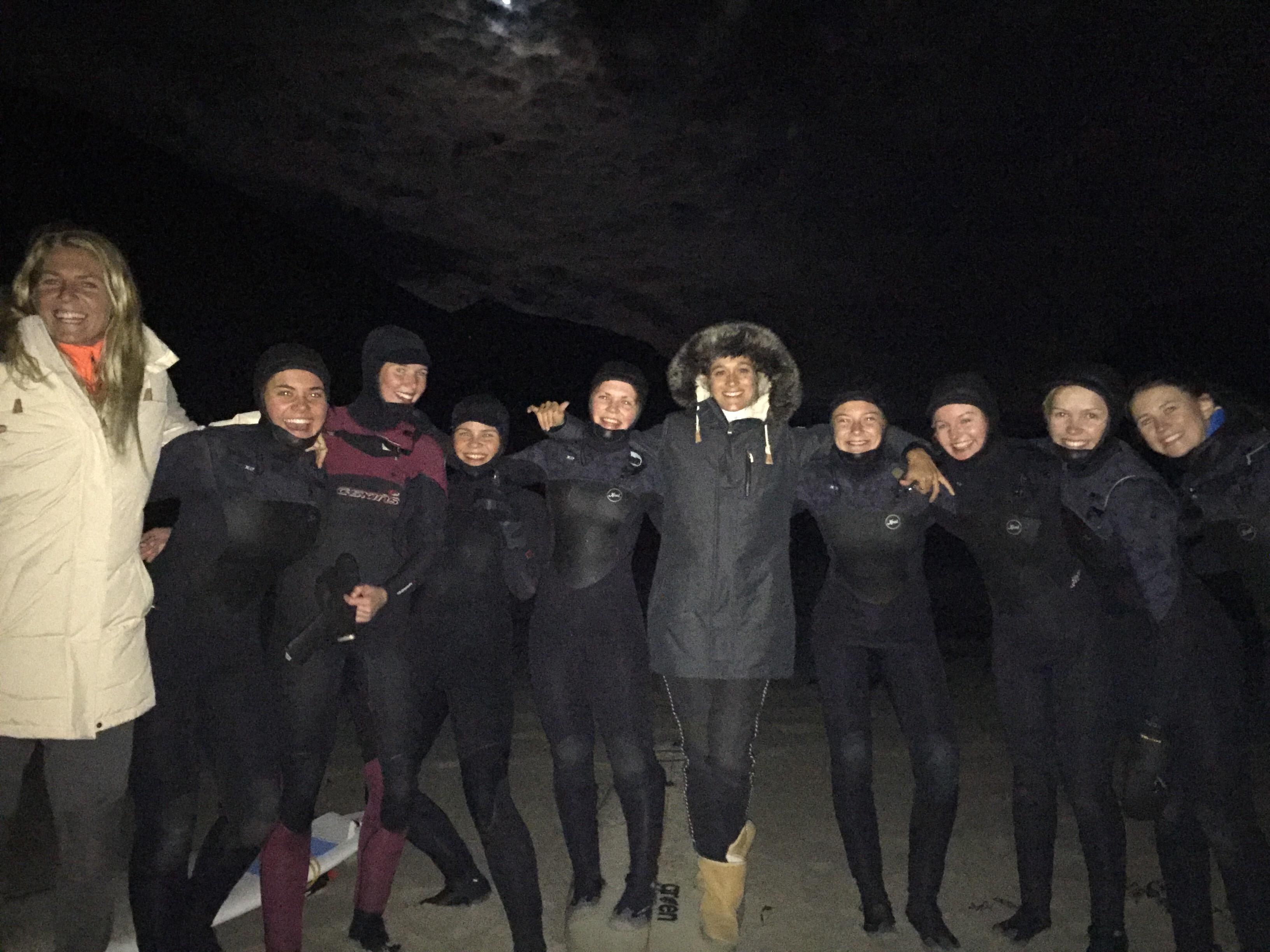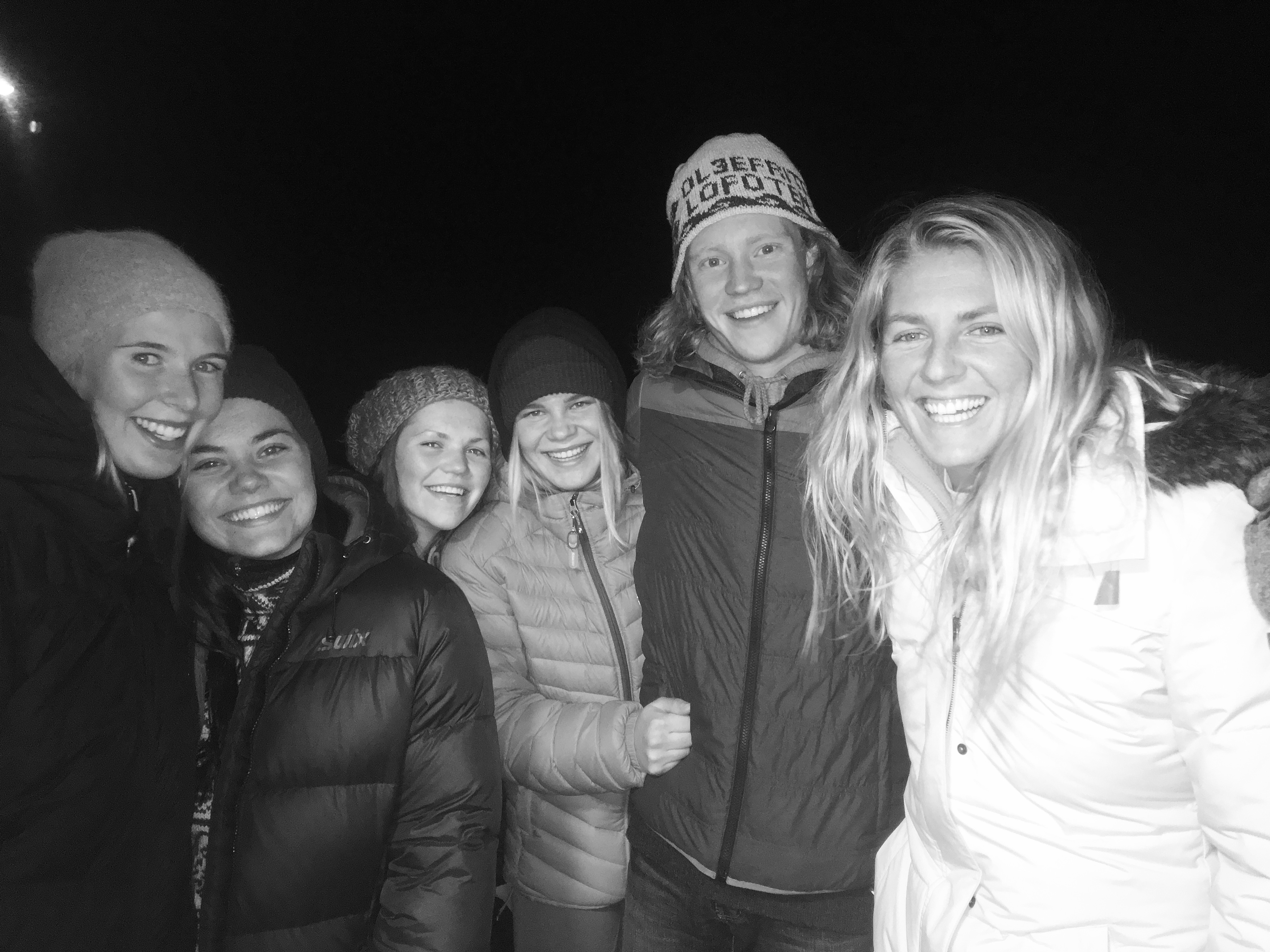 How does the Ocean inspire you each day?
Ingrid - It really inspires me to be more environmental about everything I do, if it's helping to clean the beaches, drive less or eat vegetarian. Small things makes a huge different!
Ragnhild - I've learned about all the plastic floating around in the ocean and because i'm aware of this huge problem, I don't litter. Every time i'm on the beach, i take all the plastic i can carry and try to keep my day as green as i ca. The ocean gives us waves to cruise, so I think it's only fair to give something back.
How cold is the water?
Ingrid - Now it's around 15 degrees (June 2017) but in the winter it's more like 3! So it gets pretty cold!!
Ragnhild - In North Norway the water's around 3deg in the winter, but in the Summer it can be 12-15 deg
What do you wear to keep warm?
Ingrid - In the water, a super thick 6"5"4 wetty, gloves, boots and hoodie. Sometimes wool socks inside the boots.
Ragnhild - I wear a 6"5"4 hooded wetsuit, 5mm gloves and 7mm boots.
How many girls surf in Norway?
Ingrid - I actually don't know, at my surf and ski school (Lofoten Folkehøgskole) we were 11 girls in my class that surfed! I always meet boys in the water but not that many girls! So hopefully there will be more girls in the future.
Ragnhild - I don't know the exact number, but in my surf crew, we are 11 girls and 5 boys (this was a little unusual, so I don't think it's representative on a national basis though).
If you could surf anywhere, where would you choose?
Ingrid - Iceland!! For sure, it looks like the most amazing place with such raw nature. Or Mexico, and try the tacos!!
Ragnhild - I think it would be awesome to go to Iceland to check out the waves there, and also to try surfing without a suit in Hawaii.
View the series here > Meet the Rubias Collective // Meet Artist Reisha Perlmutter // Meet Marine Biologist Olivia Rose // Meet Photographer Carly Brown