As the 2014 Women's World Tour concluded last week in Hawaii and another world title was claimed by Stephanie Gilmore, it also marks the end of an incredible year for ASP commentator and ROXY surfer, Rosy Hodge.
We asked Rosy to share her standout moments from the 10 tour stops this year, which spanned 6 countries in 8 months. We also stole some of her personal photos that she took while traveling on the road with ASP for you to enjoy!
#1: ROXY Pro Gold Coast
The waves were beautiful, the girls were ripping (Stephanie Gilmore won!) and I got to interview ROXY surfer-in-training, Sierra Kerr during her dad, Josh's heat. Plus, I managed to score a few waves on the off days.
#2: Fiji Women's Pro
Fiji was one of the first places I travelled to as a frothing grom when I was thrown into the Roxy Pro Trials at massive waves at Cloudbreak. I was terrified back then and now, it is one of my most favorite places to surf.
Watching the girls push the levels of women's surfing almost 10 years later at this same break was so inspiring. Sally Fitzgibbons won, the sunsets were mental and I met some of my heroes.
#3: Billabong Pro Tahiti
I had never seen Teahupoo break before. I sat front and center as the best male surfers put themselves in life and death situations. I was awestruck by their ability to shake off massive beatings, paddle out and get another heaving wall of water. Big thanks to photographers Brent Bielmann and Ryan Heywood for capturing some underwater moments of me too.
#4: J-Bay Open
The tour returned to J Bay this year, which meant I got to go home to South Africa! Out of all the amazing places in the world, home is special and I think the more I travel the more I realize how lucky I am to come from such an incredibly beautiful place.
We bungee jumped, swam with sharks and the waves offered their usual display of beauty and perfection. I also got to hug my family – the highlight of the entire trip!
#5: Trestles (San Clemente, California)
The event at Lower Trestles was awesome! I'm living in San Clemente now and getting to ride my borrowed bicycle to the contest site, in the crisp morning air before sunrise and catch a few waves on the off days was the highlight for me.
Steph Gilmore and Jordy Smith won the event and their surfing was incredible.
Thanks Ryan Miller and Trevor Moran for the surf photos!
#6: ROXY Pro France
I love going back to Europe every year and having ROXY team mates Bruna, Kelia, Monyca, Lisa and LeeAnn around the contest site made this contest even more fun!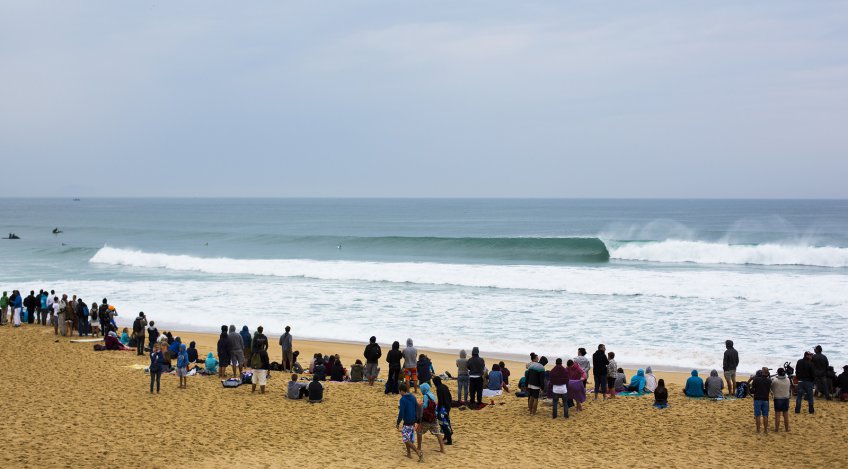 #7: Honolua Bay, Maui
It's the last stop on the ASP World Championship Tour for the ladies and it has been the most exciting world title race in women's surfing history! Congrats Stephanie on your 6th World Title, you are such a badass. The sunset on the final day of the event was pretty spectacular too.
To catch more of Rosy's incredible adventures, follow her on Instagram here